While I'm away at SNAP!, I've asked some of my favorite bloggers to share their ideas with you!  I'm so excited to introduce you to Jocie from The Better Half!  She's going to share a super simple $5 Frame Redesign with you!
Thanks so much for having me here at Create.Craft.Love, Jill! I'm Jocie (pronounced Jah-see) from OPC's The Better Half. Here's my fam – me, Lucy, Izzie, and Ethan (the hubs).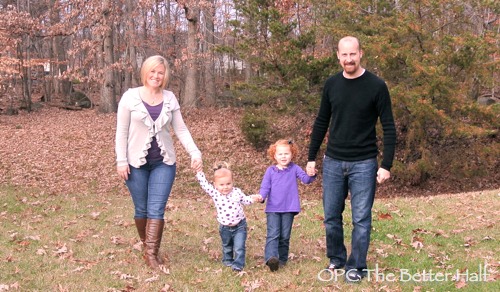 If you haven't heard of us, One Project Closer (OPC) for the hard-core home improvement folks. Ethan shadows professional contractors on actual job sites to give our readers the best and most detailed project guides available, all for free. Some my favorite project guides include how to build wood floors, building a deck, and repairing cracked concrete.
The Better Half is just like it sounds – better! Just kidding…but not really. lol! I seriously love crafts and decor-oriented DIY – some of my favorites include my first video on Pallets: 101 – how to deconstruct pallets and Dollar Store Easter decor. Kim, the other Better Half, works 24/7 to provide up-date home improvement coupons like these Home Depot savings!
$5 Frame Redesign
Way too long ago I started the redesign of our living room. I love the leather couches, built-ins, and mantel, but was sooo over the gold and brown. So I painted the walls and the backs of the built-ins, and freshened up the room with some new pillows from Ikea and curtains from Target.

Next step: Decor! I grabbed the old frames that used to hang above the couch, some paint, and got to work. Here was how they looked before: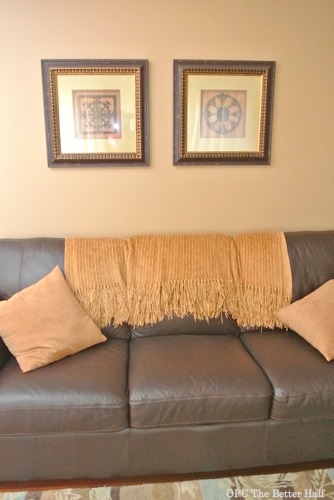 Once I made the decision use the old decor, I impulsively moved forward from there. I ended up spraying the frame white, the matte and medallions yellow, and the backing I painted using the wall color.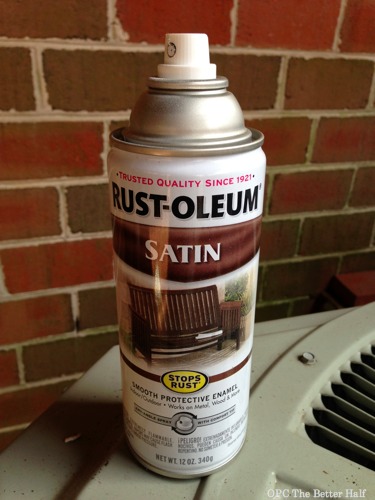 Here was the fun part – I wanted to add some interest with the matte of the frame, but didn't have any stencils on hand. Again, wanting to get her done, I decided to paint with toilet paper rolls!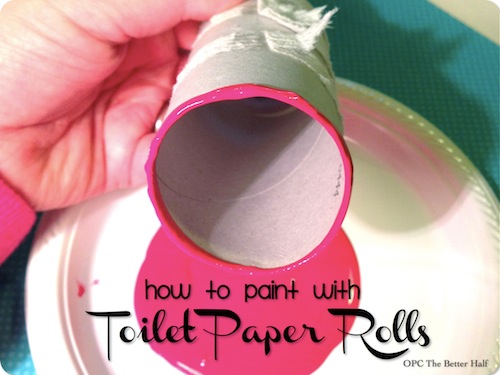 It was so so easy! I put some paint on a plastic plate and dipped the end of the toilet paper roll in and then stamped it onto the paper.
I first did several lines of circles, all the circles touching. (this is an example, I forgot to take a lot of pix while I was painting)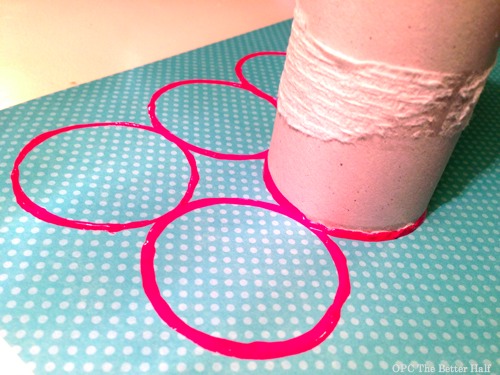 Then, I went back and put another layer of circles starting at the halfway point. It created a flowery lattice-type look.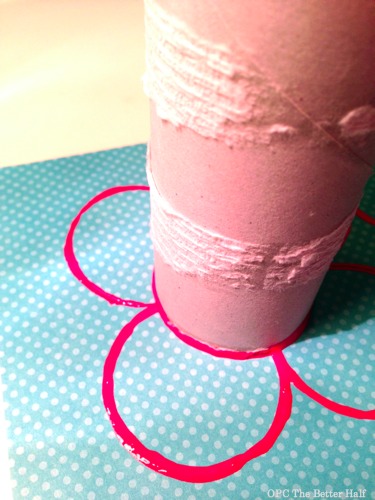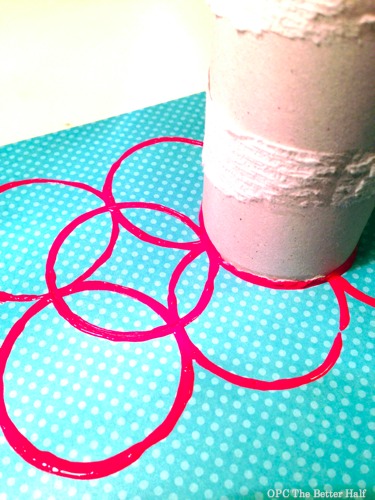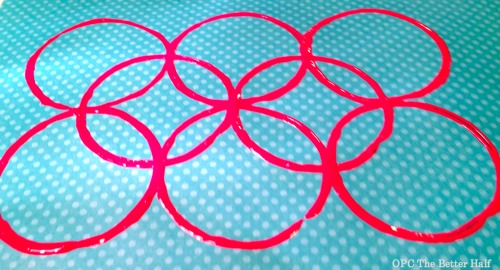 Here is the mat of the frame I painted using gray on top of the yellow spray paint. The paint evened out a good bit once dry. I also lightly sanded it all lightly to even it all the way out.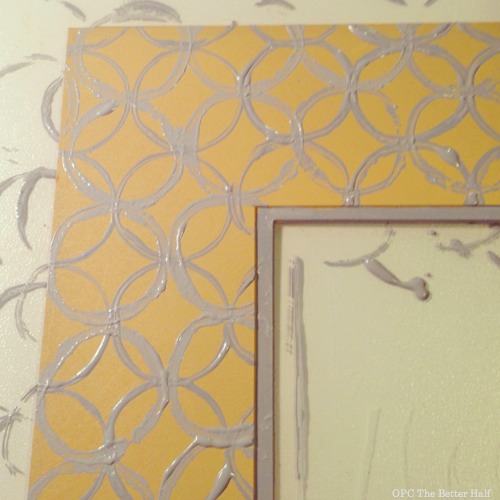 It took all in me to wait until the paint was dry. Finally, I was able to hang them back up and admire them. I still have a lot to do in the room, but was really pleased with my cheap decor solution!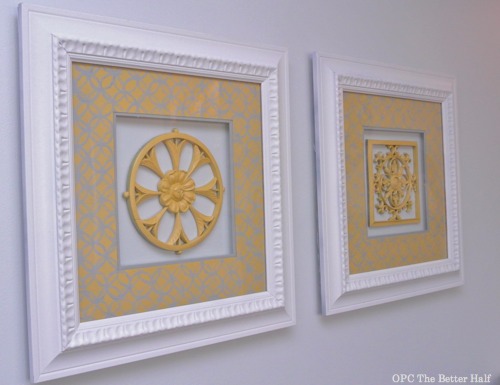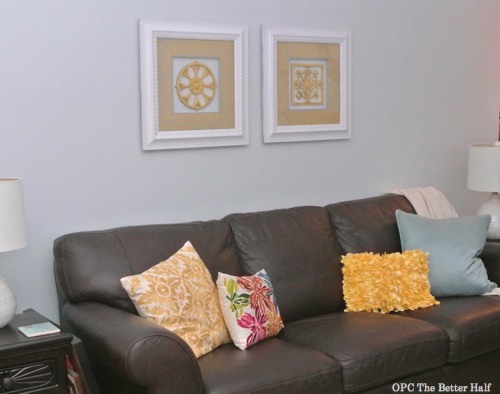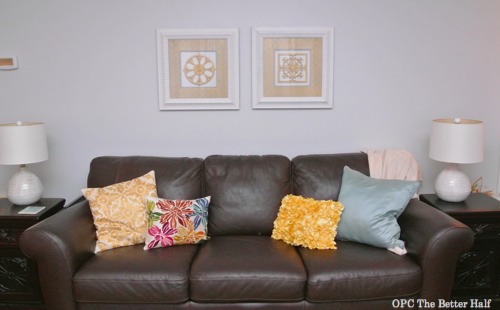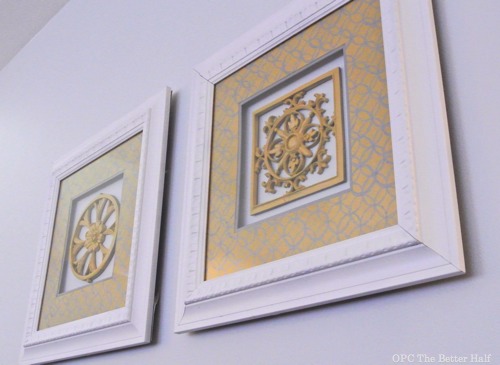 For more fun projects and crafts, visit Jocie at The Better Half! You can also connect with her on Facebook and Pinterest. Hope to see you soon!