Hello friends!! I'm Gina from Kleinworth & Co. & I am so thrilled to be here with you all today at Jill's place. Decorating a Christmas wreath is probably the thing I look forward to the most come holiday time. So you can imagine how exited I was when Jill asked me to join in on all this fun with the Christmas Wreath Series. Usually at Christmas I go completely overboard with all the decorations & put out everything I have ever collected. I do this partly because I feel bad that we store these things all year long & so I then feel obligated to use it all. Well – this past summer we moved in to our new house & did a complete overhaul to our decor. So this year I will be keeping in that fresh & new feel & changing a lot of the usual things we would normally decorate with. Since the front door & the wreath give the first impression to what's to be found inside the home -I knew that the wreath needed to be classic, timeless & elegant. Since I plan on changing all our holiday decor to neutrals with touches of green I decided that a simple Boxwood Wreath with accents of cream & white would be the perfect thing to set the tone. Let me show you just how easy it was to make!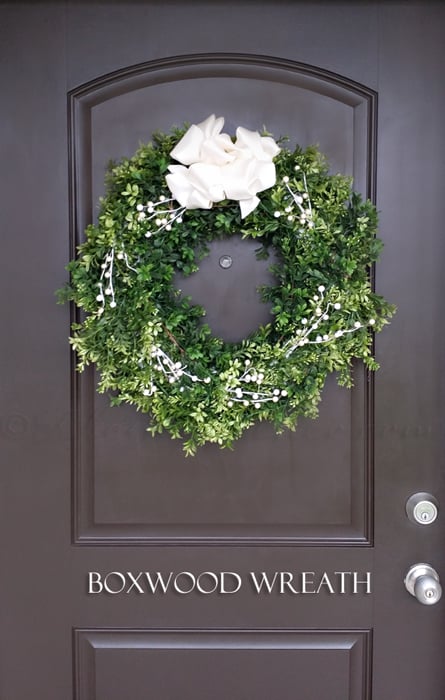 With a chocolate brown door with a silver kick plate I have to be very careful what colors I choose for my decorations. Not everything stands out as well as I would like & not all colors go well with it either. Fortunately the green & white popped quite nicely against it.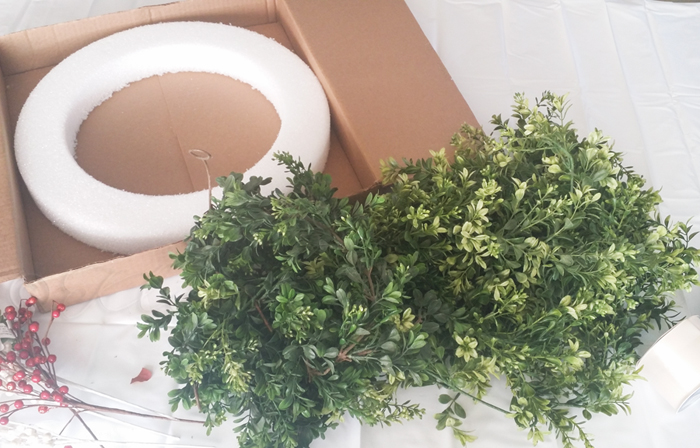 Here is what I started out with. Foam wreath form, white cotton strips of fabric, boxwood garland, sprigs of white berries (I also had red in case I changed my mind), cream satin ribbon & lot's a hot glue.
I started with wrapping the wreath form with the cotton fabric as hot glue & foam don't really work all that well together. I needed to give the hot glue something to stick to.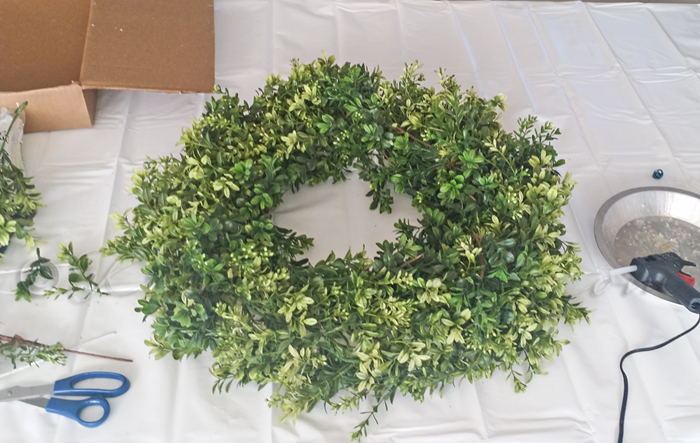 Then I stared gluing the boxwood garland around the wreath form until it was completely covered.
I added the berry sprigs for highlights.
Then I created 2 large bows with the satin ribbon & glued them close together to look like one larger bow.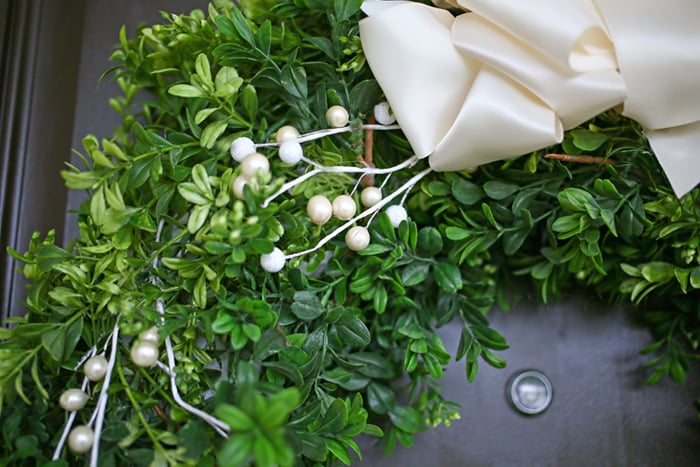 I like that it's just simple enough to say elegant without looking like it's lacking. I still want it to have enough punch from the street for curb appeal.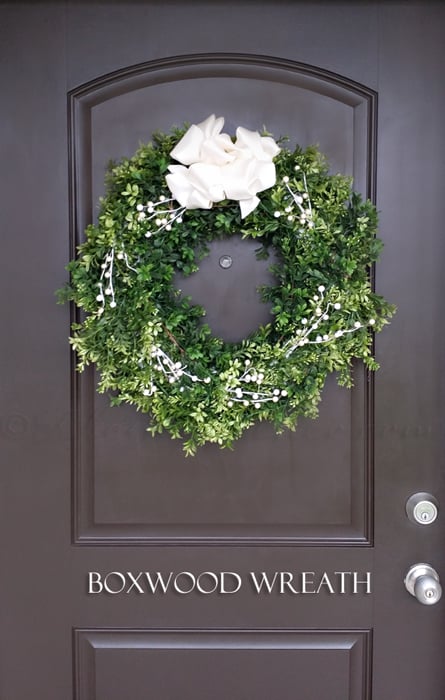 Here it is! I can't wait to hang it on the door for December.
Gina is the author & photographer behind Kleinworth & Co. She is a homeschooling mom to 3 and devoted wife with a passion for all things creative. Gina lives in Northern Idaho but is a So Cal native & spent 12 years living in various parts of the Nevada desert. Kleinworth & Co is a creative blog where Gina shares recipes, gift ideas, crafts, simple & cost effective ways to decorate your home, creative & fun projects for the kids & photography tips. Come visit to learn, share & get inspired on a budget.
Want more holiday ideas?