Hello friends and readers of Create. Craft. Love! I am Pam from Over the Big Moon and I excited to have teamed up with Jill and Floracraft to share this Easy Winter Wreath with you guys today!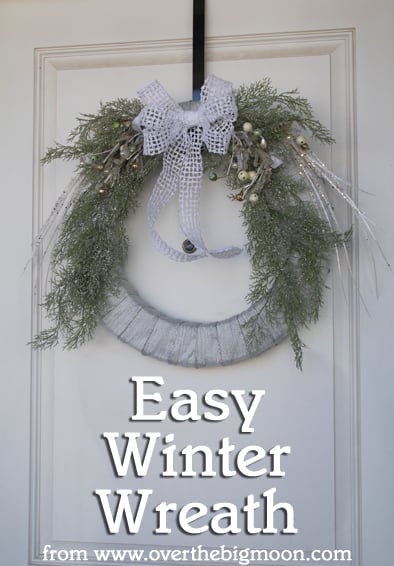 At Over the Big Moon, my blog partner, Lisa, and I love to share anything and everything related to enriching our roles as wives, mothers, friends and homemakers! We love to share free printables, DIY tutorials, recipes, Pre-K Packs and more! We'd love for you to hop on over and check out some
I don't know why, but I have an obsession with Wintery looking things! I almost love decorating in January as much as I do for Christmas! Put me anywhere near White, Silvers, Golds, Mint, Light Blues, etc and I'm a happy girl! So, I decided to create a wreath that I could use all the way until I decorate for Valentines Day!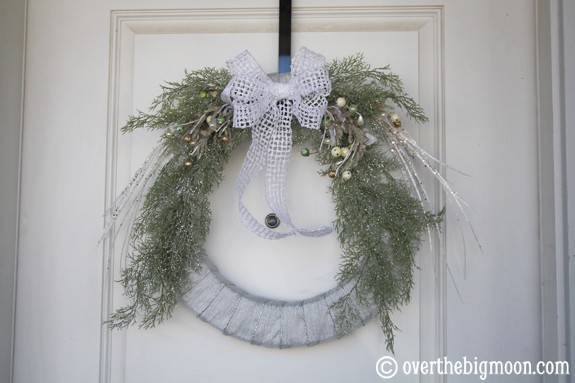 I was visiting my family and one evening my sister and I decided we wanted to make some wreaths! So, we ran to Michael's and go her a wreath form and all our supplies!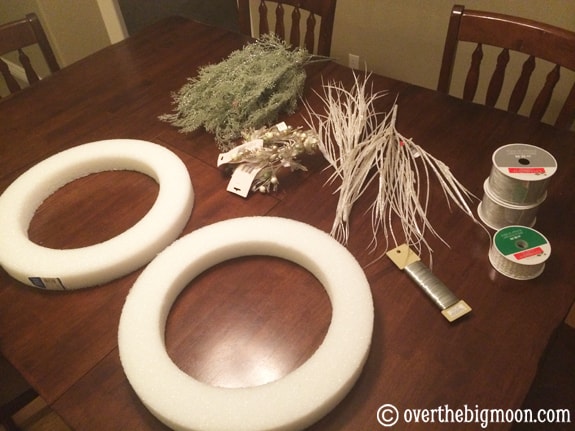 Supplies needed:
16″ Floracraft Foam Wreath Form
2 Ribbons – 1 to wrap your wreath and the other to make your bow
Craft Wire
Large Floral Accent (Cut into 2 pieces. Ashland is a great brand to look at!)
Pick (Cut into 2 sections)
1 Garland (Cut up into mini picks. Again, Ashland is a great brand to look at.)
Wire Cutters
Hot Glue Gun and Glue Sticks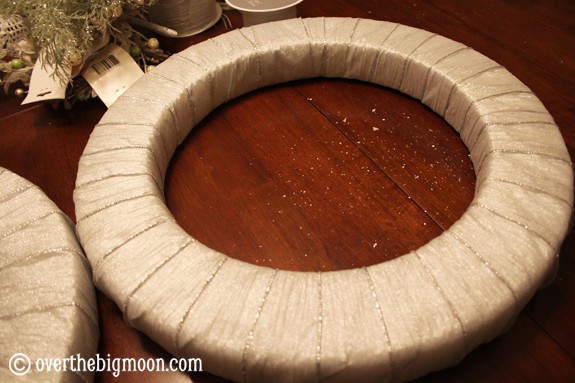 Start by wrapping your wreath in a ribbon. I like to put a dab of hot glue every few times around the wreath! Also, I prefer a wire ribbon! Also, for winter, I love if the ribbon has a glitter look. It stands out so much better!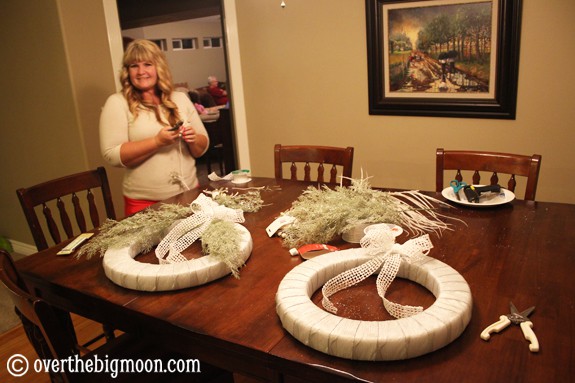 Next make your bow! My sister is a bow making fool and helped me make this tutorial for Bow Making a few years back. Feel free to reference it when making you bow.
When choosing the ribbon for your bow, I suggest finding something with a texture to it. This crochet looking ribbon turned out SO fun!
Once we tied the bow and attached it to the wreath using hot glue, then we cut our Large Floral Accent into 2 sections and attached them underneath the bow using hot glue. Initially we just hot glued the top section down. Then after we finished up the wreath, we stood it up to see how they would fall and just added dabs of glue to a few spots to attach them how we wanted the accents to fall.
Next we cut our white picks into 2 pieces and attached them, barely under the large floral accent, but to where they could still be seen well.
Last, we cut up our garland into tiny pieces and added them where needed using hot glue. They really finished the wreath off! We were beyond happy with how classy and wintery it turned out!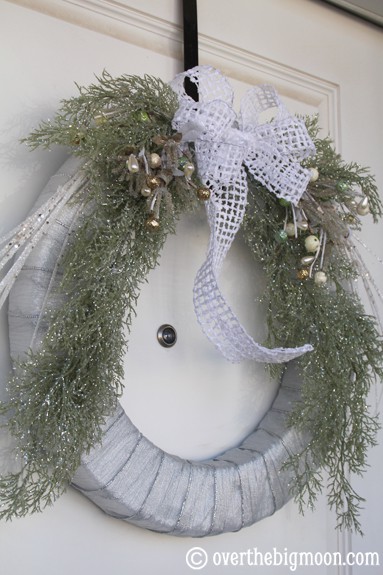 Thanks again Jill for having us and we hope everyone has an amazing Holiday Season! Be sure and check us out on Facebook, Instagram and Pinterest (Pam/Lisa)!!
Pam